Manufacture of cold-forging parts, machinery processed parts, metal pressing parts, YAHATA TRADING SHANGHAI, YAHATA HARDWARE SHANGHAI



Yahata Hardware Shanghai and Yahata Trading Shanghai are the Yahata Neji's second overseas plants, in which Yahata Neji invested 100% of its capital. To satisfy customer's needs, they were established in 2003 and supply high-quality and low-cost products featuring cold-forging of screws and fastening parts, machined parts, metal stamping products. They also acquired ISO14001 and ISO9001 in 2006, and TS16949 in 2010.
The Shanghai Yahata Neji Group strongly integrates manufacture, purchasing, selling, trading, and distribution to meet the demand for customer's high quality standards. We are continuing making efforts for improvement.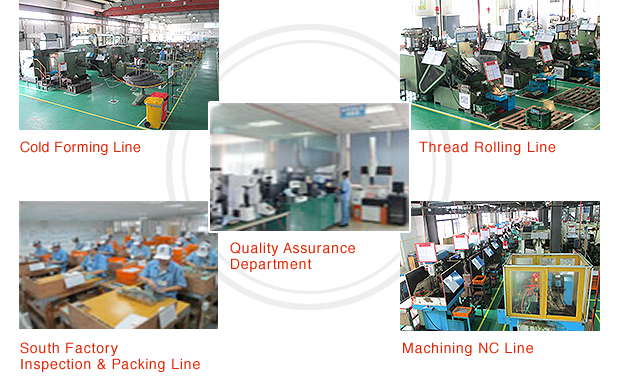 YAHATA TRADING SHANGHAI CO.,LTD.
Capital
250,000 USD (YAHATA NEJI: 100%)
Establishment
November 21, 2003(Guangzhou Office, November, 2010)
Employee
230(Common)(as of August, 2013)
Officer
[Chairman]Kengo SUZUKI
[President]Katsuhito KONNDOU
Capiital
250,000 USD (YAHATA NEJI: 100%)
Yahata
Trading
Shanghai
Rm.311, Hesen Business Center, No.1600 Yanan W. Rd, Changning District, Shanghai, China 200052
[ Tel ] +86-21-5230-5015  [ Fax ] +86-21-5230-5017


Yahata
Trading
Shanghai
Guangzhou
Office
3F-V27, Guangzhou East Railway Station Terminal Buil, Dongzhan Rd, Tianhe District, Guangzhou City, Guangdong Province, P.R. China 510610
[ Tel ] +86-20-6131-1951  [ Fax ] +86-20-6275-8016


URL
http://www.yht-cn.com
YAHATA HARDWARE SHANGHAI CO.,LTD.
Capiital
2,450,000 USD(YAHATA NEJI: 100%)
Establishment
January 29, 2003
Employees
230(Common)(as of August, 2013)
Officer
[Chairman]Kengo SUZUKI
[President]Katsuhito KONNDOU
Yahata
Hardware
Shanghai
11, 12, NO-.318 Haohai Rd. Xinbang Industrial Park, Songjian District, Shanghai, 201605 P.R. China
[ Tel ] +86-21-5789-1688  [ Fax ] +86-21-5789-3703


Premise
[Premise]App. 7,000㎡
[Building Site]App. 4,000㎡(2,000㎡x 2 Buildings)
ISO Qualification
TS16949   ISO14001 / ISO19001
URL
http://www.yht-cn.com